Dr Natalie Zacek
Lecturer in History and American Studies
My monograph, Making a White Atlantic: Whiteness, Masculinity, and Governance in the English West Indies, 1670-1770, is currently under consideration by Cambridge University Press. To read a prospectus, please click here.
I am currently working on two projects. While on research leave in spring 2004, I will begin research towards a book, tentatively entitled Dangerous Tenants: The Culture of Politics and the Politics of Reputation in Colonial British America, 1688-1713, which utilises a microhistorical approach in order to explore issues of imperial and colonial identity, gender, and governance in the decades following the Glorious Revolution. By examining the bitter conflict which raged between several major figures in British imperial administration and the colonists over whom they wielded authority, my hope is to illuminate the ways in which individuals understood and shaped the nature of imperial authority and governance, and the extent to which personal and political imperatives influenced one another in colonial British America. The years between 1688 and 1713 saw four royal governors in the American colonies come into conflict with local elites, in the course of which one governor was murdered and the others were eventually forced to relinquish their offices, having been charged with a series of gendered offences, including cross-dressing, physical assault, sexual transgression, and besmirching the name of the (female) monarch. I intend to analyse the stories of Governors Andros, Nicholson, Parke, and Cornbury within the framework of changing ideas of authority, governance, and masculinity and in the context of the Glorious Revolution and the expansion and articulation of the first British empire. I hope that this project will raise questions about the utility of a cultural and gendered approach to politics and the relationship between metropole and colony.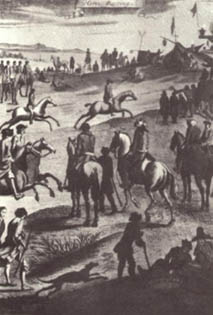 I am also planning to begin a project on the social and cultural meaning of the ownership and use of horses in eighteenth-century Virginia. This project is at an early stage, but I have been pleased to find a large number of sources, both printed and manuscript, which I intend to examine, and have formulated several lines of inquiry to follow. I am particularly interested in investigating the symbolism inherent in the figure of the mounted man or woman, particularly in situations in which people other than adult white males, particularly slaves and free African-Americans, owned or rode horses, and what implications the use of horses by non-elite individuals had within the established social order of colonial Virginia. I intend to incorporate visual and material sources into this project, and look upon it as both an amplification of themes of community and social hierarchy which I explored in my dissertation and as a venture into new sources and methodologies.

Contact
Personal
Research
Teaching
Links